Commodity introduction




卒業証書(Diploma)
● Person who wants to make diploma and diploma at Japanese school

I think that working by longhand because there is a character of which a local trader like the Chinese character and a foreign character, etc.

cannot correspond and being had a hard time are also more of a Japanese bond. Please see it wants to change to the digital printing to save labor once by all means.

We are able to print out with variety of names and students` numbers and etc.
with one process that used to be printed after.
●日本人学校で、卒業証書や修了証書を作りたい方
日本語の証書は漢字や外字など、現地の業者では対応できない文字があるため手書きで作業をして苦労されている方も多いかと思います。
いままで後から手書き印刷されている名前、学生番号などの可変部分が、弊社では一工程で印刷できるので仕上がりもキレイです。
手間を省くためにデジタル印刷に変更したいという方はぜひ一度ご覧ください。



論文印刷・製本(Thesis)

● It is very difficult for printing companies in foreign countries that print out in Japanese because Japanese language has different grammer from English.
Please leave correspondence to a difficult Japanese font in the trader in the person locale that it wants to ask for the thesis bookbinding of Japanese while going to study to foreign countries.
Our advantages is that usually many printing companies will not print out little number of copies, but we will respond as many as you like even though the number of copies are very few.
Bookbinding from one is received by the on-demand printing at a low price.
● 外国の印刷会社が英語と文法が違う日本語の印刷をすることは大変なことです。
海外に留学中で、日本語の論文製本を頼みたいという方
現地の業者では難しい日本語フォントへの対応もお任せください。
弊社は他の印刷会社で対応できない少ない部数の印刷が得意な会社です。
オンデマンド印刷により、1冊からの製本でも低価格で承ります。



Tシャツプリント(PrintT-shirts)

● Would you like to make your own T-shirts that have your favorite writing ? Would you like to make your own team`s T-shirts for your campus fastival ?
I want to make original T-shirt and Parker of the all together used in the event.

I must consult about an embarrassed person by all means when there is uneasiness in respect of communications that doesn't correspond to Japanese in a local trader though I want to make original T-shirt of all together.
●外国人の好きな漢字をプリントしたTシャツを作りませんか?学園祭用にチームTシャツを作りませんか?
イベントで使うお揃いのオリジナルのTシャツやパーカーを作りたいという方
お揃いのオリジナルTシャツを作りたいけれど、現地の業者では日本語に対応していない、
コミュニケーションの面で不安があるなどとお困りの方はぜひご相談ください。



パンフレット(Pamphlet)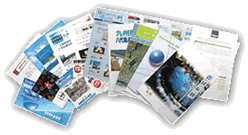 ●Person who wants to make manual, catalog, and pamphlet, etc.
Please leave correspondence to an insufficient Japanese font in foreign countries.
I will provide service from making the block copy by the professional designer to the on-demand printing in bulk.

● マニュアルやカタログ、パンフレットなどを作りたい方。
海外では不十分な日本語フォントへの対応もお任せください。
プロのデザイナーによる版下の作成からオンデマンド印刷まで、一括してサービスをご提供いたします。


Please feel free to consult in case of other printed matter.
その他印刷物のことならお気軽にご相談ください。